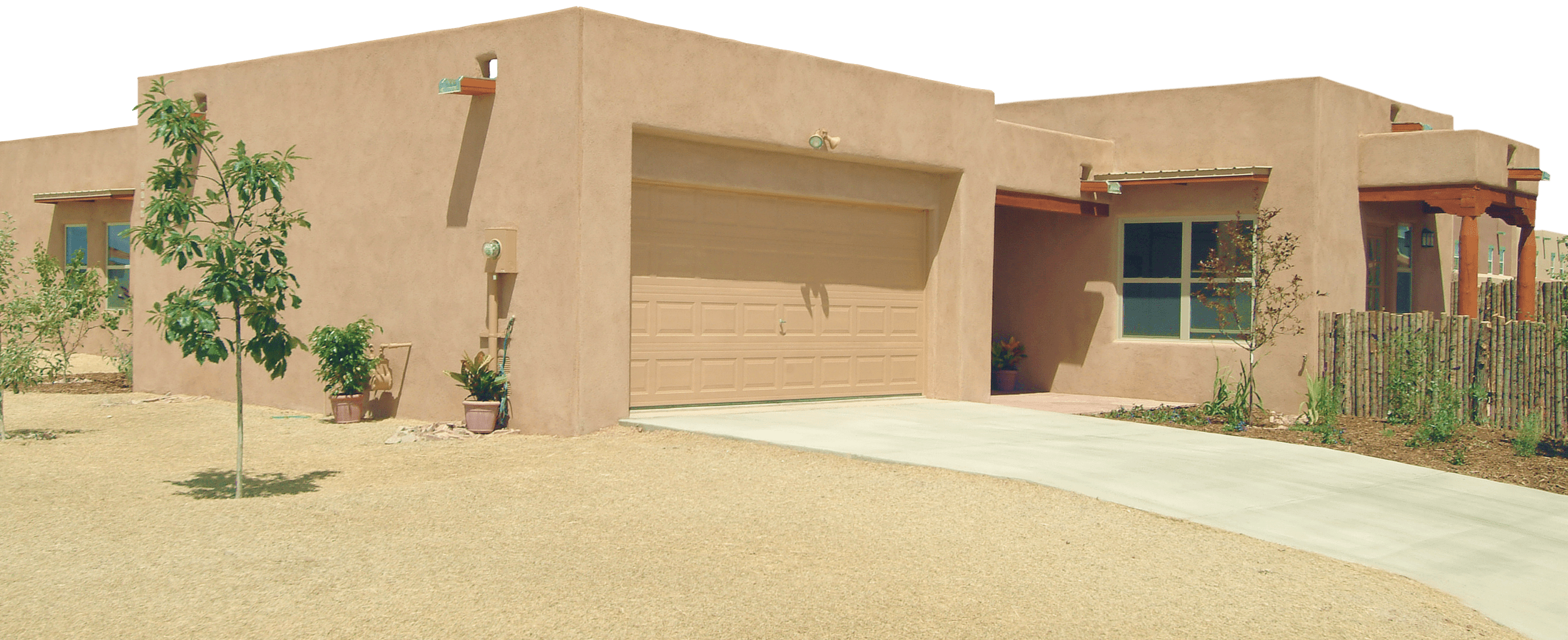 home

wise

®

FY2021 ANNUAL REPORT
Over this past year, Homewise has remained flexible and adaptable as we continue to focus on achieving our mission in an impactful and organizationally sustainable way in this ever-changing environment. What began as a quick pivot to delivering our programs and services remotely, evolved into the need to respond to changing economic and market conditions with innovative new programs, services and assistance for our clients.
For many families in New Mexico, the economic hardships caused by COVID-19 affected their ability to pay their mortgage on time and keep their home asset that they worked so hard to achieve. Losing your home to foreclosure is a traumatic process that can, in worst-case scenario, increase the number of homeless people in our community, create negative impact on neighborhoods, and put a further strain on limited social services. We believe that the best approach to this crisis is a proactive approach, so we launched the Emergency Mortgage Assistance Fund. This year, Homewise raised over $700,000 and helped 290 families across New Mexico continue to make their mortgage payments and stay in their homes during this time of financial hardship.
With mortgage rates at historic lows, and many families looking for ways to save money, we saw an opportunity to help many of our clients refinance their current mortgage to reduce their monthly payment. We quickly dedicated more staff and increased our outreach efforts to meet the demand and provide our clients with the highest level of service, even in a remote-working environment. This year, Homewise helped over 450 clients refinance their mortgage, a 275% increase over the prior year.
We also heard from several clients that they were looking for ways to reduce the overall cost of maintaining their homes and wanted to know more about options like energy-efficient home improvements, low water usage landscaping, and do-it-yourself projects. In response, we launched our newest education offering, an online course called New Home, Now What?, which covers topics ranging from basic home maintenance and repair, to low cost home security options, to creating a home savings plan, and more. Over 100 people have already attended the class and are now more empowered to be long-term successful homeowners.
This year, with the support of the New Mexico Small Business Investment Corporation, we also launched our first ever commercial loan initiative to help small business owners, particularly those operating in disinvested neighborhoods, to purchase their own building for their business. Homewise launched this program to help existing businesses own their own facilities, thereby helping them build wealth and increase stability. The program also aims to help decrease vacancy in disinvested communities by enabling the purchase of vacant commercial buildings. Later in the report is a video featuring our very first commercial loan client, Por Vida Tattoo, which we hope you will enjoy.
Another major milestone achieved this year was the launch of the Community Catalyst Fund with our partners at Anchorum St. Vincent and Enterprise Bank & Trust. The Fund is a capital source to finance high impact and much-needed community development initiatives across New Mexico like creating affordable housing and mixed-use developments, helping homeowners make energy-efficient home improvements, creating low-impact rental housing through casitas and guest houses, and helping seniors make necessary home modifications to age in place. Since we originally launched the Fund, the Santa Fe Community Foundation, Illinois No 3 Foundation, New Mexico Bank & Trust, and two individual investors have also made investments, bringing total investments in the Fund to over $16.5 million.
And last but certainly not least, we're excited to share a change in the structure of our executive leadership team. Mike Loftin has served as the CEO of Homewise for 29 years, and continues to drive the long-term vision, strategy, and financial wellbeing of the organization. We've also now added the role of President to our executive team, which will be filled by Laura Altomare. Laura has been with Homewise since 2014 and previously served as our Chief Communications Officer. She also recently served as our Acting CEO while Mike was on sabbatical. In this new role, Laura will lead the Senior Leadership team to set and implement organizational strategy and direction while ensuring the organization is achieving its mission in a highly impactful and organizationally sustainable way. With Laura in this role, Mike now has the opportunity to shift his focus more heavily toward advancement of our HomeWisdom thought leadership initiative to increase national awareness among policy makers, community organizations, and philanthropy that affordable homeownership strategies are effective in improving the financial security of low-income households and in strengthening neighborhoods.
It's been a year of adaptability and flexibility for all of us and we invite you to read more about our work, and meet some of the people who have experienced its transformative impact, in the pages of this year's annual report. We remain deeply committed to serving individuals, families and communities across New Mexico and continuing to deliver on the promise of our mission. Thank you for supporting Homewise.
Homewise has been helping New Mexicans become successful homeowners for 35 years. 2020 was no exception. During the past 18 months, we were able to safely and effectively carry out our mission by serving our clients in new ways and collaborating with key community partners to provide relief and resources for those affected by COVID.
Our core pillars of education, sustainable homeownership, neighborhood vitality, and community engagement inspire real solutions and create a clear path toward creating financial wellbeing and building stronger communities.
who are building wealth and improving their financial wellbeing.
refinance and home improvement loans
that will allow homeowners to improve their homes and increase savings.
new homes built by Homewise
to increase the options for high quality affordable housing in Santa Fe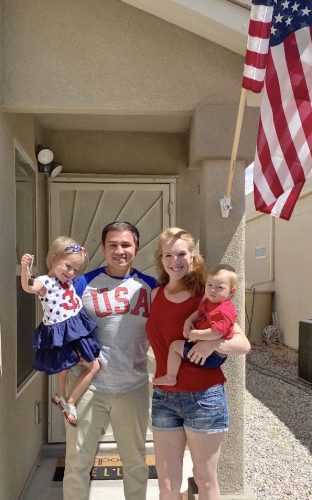 recipients of Emergency Mortgage Assistance Funds
who were able to make their mortgage payment despite financial hardship caused by the COVID-19 pandemic.
online class participants
who are better informed about their finances and the path to successful homeownership.
by household

230

unrelated & single adults

122

married with children

60

single parent

45

married with no children

by age group

36

18-24 years

245

25-34 years

225

35-44 years

172

45+ years
by employer

75

healthcare

74

local business

74

city, state & federal govt

69

national business

67

construction

62

education

45

nonprofit

38

hospitality

35

self-employed

14

finance
94 points
average increase in credit score
for clients who started with a score under 640*
$7,000
median increase in savings
for clients who started with less than $5,000 savings*
$211
monthly decrease in debt
for clients who started with 10% or more debt ratio*
*clients who successfully completed the steps in their financial action plan
An affordable community at

Vista Serena
This year we built and sold all of the homes in our newest community in record time. Vista Serena is a community of 50 single family homes tucked along the scenic western edge of Tierra Contenta with mountain views. This community has access to 324 acres of open space, parks, and trails. Vista Serena is adjacent to SWAN recreational park and is just minutes from Southside Public Library.
Vista Serena helped address the ongoing need for affordable housing in Santa Fe. This community offered both market rate homes starting at $275,000 and affordable homes for families and individuals who earn less than the area median income.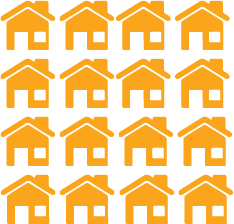 16 homes at Vista Serena, or 32%, were designated as affordable homes.
Vista Serena showed signs of great success from the beginning. Before building and the onset of the pandemic, Homewise held a launch party to familiarize the community with the project. Before the model home was even completed, the Homewise sales team had sold 28% of the homes available in this new community, which would later go on to sell out within the year.
Jesus wanted to buy a home, but in a tight real estate market, he wondered if owning a home was possible. He called Homewise and was able to find a home in his price range through a program in which we purchase and rehabilitate vacant homes in need of repair, and then sell them to new homeowners in the community.
Shortly after the pandemic began, we created an Emergency Mortgage Assistance Fund (EMAF) to help individuals and families make their mortgage payments and stay in their homes. The relief was specifically targeted for those who were not eligible for stimulus or unemployment benefits, or other types of federal assistance. The EMAF program was funded with over $700,000 from the City of Santa Fe, City of Albuquerque, the Albuquerque Community Foundation, the Santa Fe Community Foundation, Avalon Trust, the National Association of Latino Community Asset Builders (NALCAB), NeighborWorks America, Sandia Labs Foundation, Bank of America, and Wells Fargo. These partners understood the importance of taking immediate action to protect homeowners, strengthening and accelerating economic recovery. This fiscal year, Homewise helped 290 individuals and families make their mortgage payment and focus on staying safe during the pandemic.
"Thank you guys SO much for the support during these struggling times. This is truly the most generous and life saving program I have ever heard of. [My family and I] are truly grateful for your support and helping us keep our home when I am unable to financially do it. Thank you!"
– from a single mother with 3 children
Advising clients on the right time to refinance >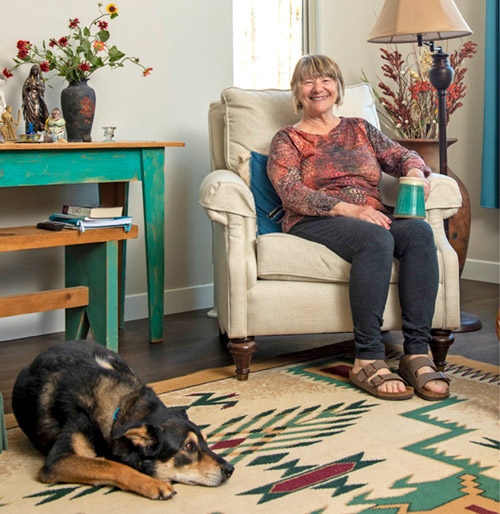 an artist's journey to finding an affordable home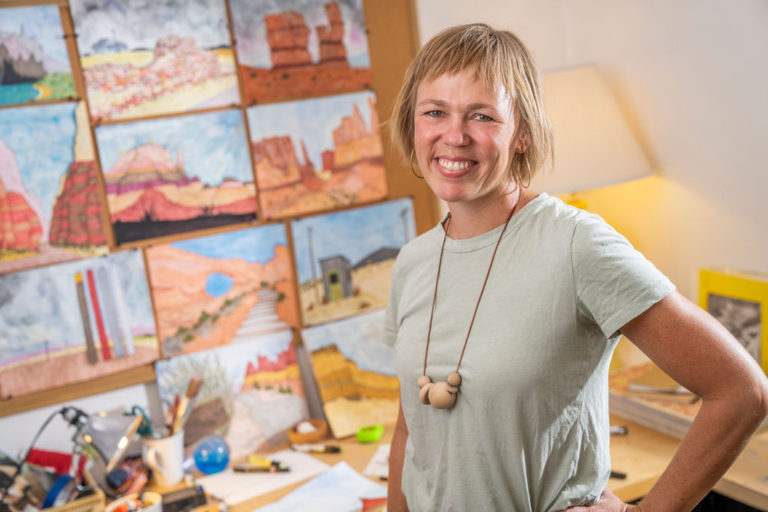 "I came to Homewise in 2016 and was one year into being a self-employed business owner. I had just moved back to Albuquerque because I could not afford Santa Fe anymore. My sister had just bought a house through Homewise, and we were going to help each other make a go of it.
I have always been an artist. When I graduated from college, I knew that I could not make a living as an artist so I went through a bunch of different jobs working in galleries, museums, and entry-level teaching jobs. I knew I had to get a Masters degree if I wanted to do anything more in that world. I succeeded in receiving the education I wanted but, unfortunately, shortly thereafter, the economy tanked. I felt lucky to get a job for half the salary I originally expected to receive, but even those were scarce. I had to ask myself 'What do I want to do?' I love artists. I want to be around artists. I want to support them, so I started my business as an experiment, and now I'm four years in and it seems like it's working!
There was a period of time where I didn't know if I could do the work that I wanted to do and own a home. There was a moment where we tried to see if I could get financed, and the numbers weren't adding up. But something happened, something very magical. A friend of mine wanted to sell me her house at a moment where suddenly everything came into play. I was eligible for not one, but three down payment assistance programs, and I could not have done this without that help. The grant money I received changed my life. I kept tearing up every time I signed a form and talked about it. I have felt questioned my whole life for the choices I've made, for the debt I've accrued, for wanting to be around artists and wanting to be an artist. Homewise believed in me and trusted me, and it means I get to keep doing the work that I want to do while enjoying the stability of the home that I own."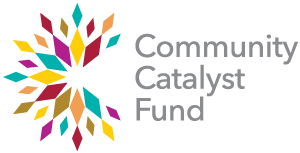 In 2020, Homewise partnered with Anchorum St. Vincent and Enterprise Bank & Trust, two like-minded, local organizations, to create the Community Catalyst Fund.
Our goal is to enhance the quality of life for underserved neighborhoods in Santa Fe, Albuquerque, and other northern and central New Mexico communities through the creation of affordable housing options, mixed-use developments, and new commercial and community spaces.
Anchorum St. Vincent and Enterprise Bank & Trust contributed five million each to the Fund, the largest investment either partner has ever made to a single community-based program. With these funds, we can:
The Community Catalyst Fund enables us to make a much larger impact on easing the city's chronic affordable housing issue. The Fund will help finance mixed-use developments, as well as the acquisition and rehabilitation of disinvested properties.
We can serve more New Mexicans with a greater variety of needs including home improvement lending, low-impact rental housing through casitas and guest houses, home modifications to help seniors age in place, creating new commercial and public spaces in underserved neighborhoods, and other initiatives that benefit entire communities while proactively creating a healthier and more equitable future.
Projects supported by the Community Catalyst Fund partnership: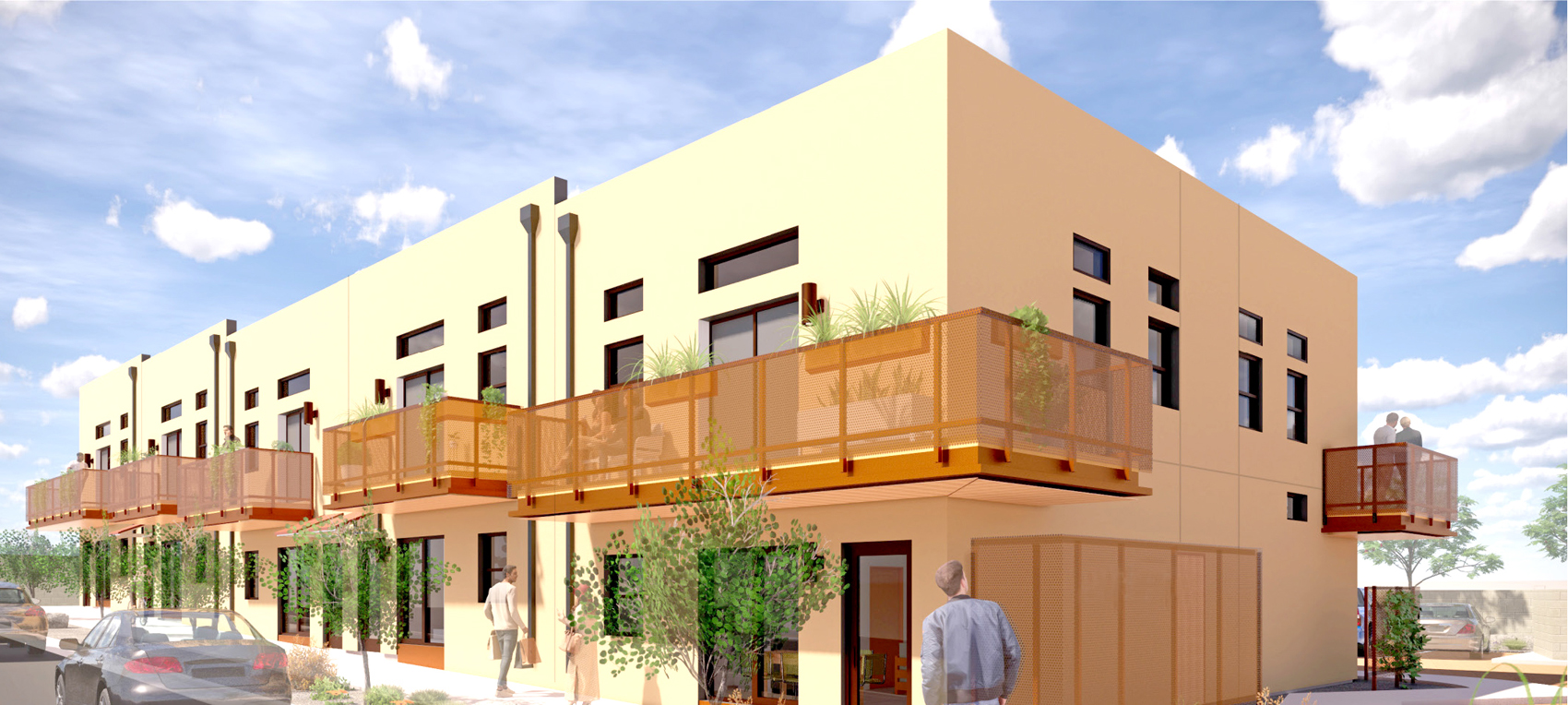 An all-solar, mixed-use community located in the heart of Santa Fe with easy access to walking and biking trails.
40 single family homes, 30% sold as affordable homes
33 condo and live/work spaces, 30% to be sold as affordable homes
Commercial space for local, neighborhood-friendly businesses such as restaurants, coffee shops and boutique retail
Located in Albuquerque's bustling Downtown district, an area known for its vibrant arts and culture scene, the Palladium townhomes will have a contemporary design to complement the surrounding architecture.
16 townhomes split between two addresses located a block apart

Will provide mixed-income housing with help from a New Market tax credit

Project also has the support of the City of Albuquerque's Metropolitan Redevelopment Agency
Tattoo shop thriving in their new
Por Vida is a well-established tattoo studio with deep connections in the Albuquerque community. When the opportunity arose to buy a huge, defunct appliance store in Barelas, Por Vida owner, Bale, saw a chance to expand his business and create a venue to support the surrounding community.
We've had an amazing year thanks to our generous supporters
We gratefully acknowledge the active endorsement of our mission by our investors and contributors.
Financial Institutions
Ally Bank
Bank of Albuquerque
Bank of America
Bank of the West
BBVA
Century Bank
Enterprise Bank & Trust
Fidelity Bank
First National 1870
Kirtland Federal Credit Union
New Mexico Bank & Trust
Self-Help Credit Union
Southwest Capital Bank
Texas Capital Bank
UBS Bank
United Business Bank
U.S. Bank
WaFd Bank
Wells Fargo
Foundations
Albuquerque Community Foundation
Anchorum St. Vincent
Calvert Impact Capital
Frost Foundation
Illinois No 3 Foundation
Kalliopeia Foundation
The Kuhn Foundation
Los Alamos National Laboratory Foundation
McCune Charitable Foundation
Jessie Smith Noyes Foundation
Onota Foundation
Erich and Hannah Sachs Foundation
Santa Fe Community Foundation
Wells Fargo Housing Foundation
Community Businesses, Government Agencies and Nonprofits
Barelas Community Coalition
CHRISTUS Health
CHRISTUS St. Vincent Regional Medical Center
City of Albuquerque
City of Santa Fe
CDFI Fund, US Treasury
Engage Albuquerque
Housing Partnership Network
HUB International & Central Insurance
National Association for Latino Community Asset Builders
NeighborWorks America
NeighborWorks Capital
New Mexico Mortgage Finance Authority
New Mexico Small Business Investment Corporation
Opportunity Finance Network
PNM Resources
Prosperity Now
Prosperity Works
Sandia National Laboratories
U.S. Economic Development Administration
Religious Institutions
The Domestic and Foreign Missionary Society of the Protestant Episcopal Church
Mercy Investment Services
Religious Communities Impact Fund
Seton Enablement Fund
Sisters of Charity of the Incarnate Word
Individuals & Investment Funds
Ann Alexander and Richard Khanlian
Anonymous
Avalon Trust
Avalon Trust clients
Joel Frederick Barber
Anne Beckett
Beth Beloff and Marc Geller
Erika and Glenn Campos
Lawrence Carreon
Jill and Paul Cook
Quarrier and Phillip Cook
Susan and Conrad De Jong Fund
Lori and David Delgado
Anne Messbarger-Eguia
Cliff Feigenbaum
Kristina Flannigan
Fresh Pond Capital clients
Gwen Gilligan
Elena Gonzales
Edward Grasskamp
John Guffey
Naomi and Robb Hirsch
Michael Kelly
Sally Kuhn
Teresa Leger de Fernandez
Nahum Ward-Lev
Ann Lockhart
Viola Lujan
Susan Matteucci and Michael Loftin
Genevieve and A. Paul Mitchell
Felicia and Daniel Morrow
Julie Moss
Mariel Nanasi and Jeffrey Haas
Kay Naranjo
Agnes Noonan
Laura M. Orchard
Karen E. Orso
Cynthia Piatt
Lynne and Joseph Ptacek
Valeri Purcell
Stacy S. Quinn
Celia D. Rumsey Charitable Trust
Miriam Sagan
Lidia Carbonera-Sanchez and Daniel Slavin
Dr. Shelle Sanchez
Gail Saunders
Tom Saunders
Wilson Scanlan
Jenna Scanlon
Elizabeth and Richard Schnieders
Nan Schwanfelder
Martha and Patterson Simons
Linda and Andrew Spingler
The Sustainability Group clients
Alexis Tappan
Trillium Asset Management clients
Kathy Ulibarri
Mary and Mark Vanderlinden
Paul Vogel
Debra A. Walsh
Paul Zelizer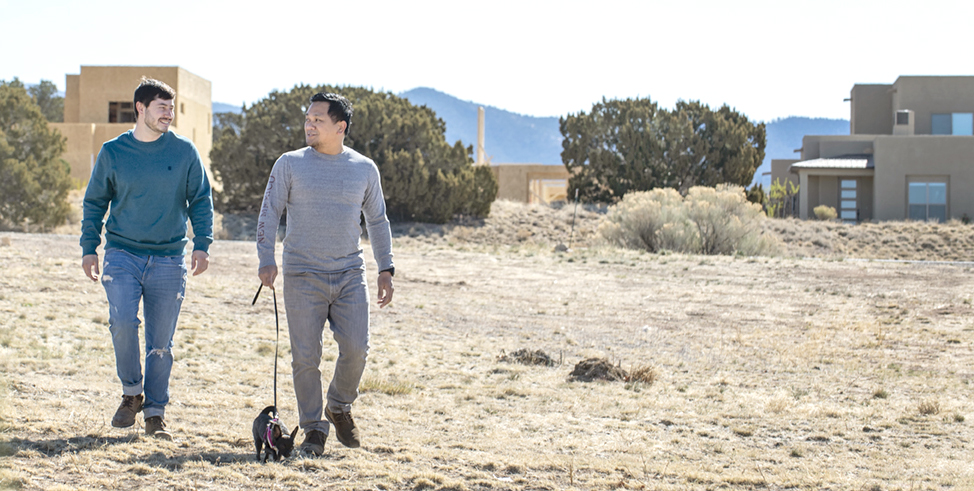 Homewise Community Investment Fund Notes are offered to both individual and institutional investors who reside in states in which our Notes are registered or exempt from registration. This currently includes: Alaska, New Mexico, California, Colorado, Connecticut, Hawaii, Illinois, Iowa, Maine, Massachusetts, Mississippi, New Jersey, New York, Rhode Island, Texas, Utah, Vermont, Washington, West Virginia, Wyoming. This notice is not an offer to sell or the solicitation of an offer to buy, nor shall there be any sale of securities in any state in which such offer, solicitation, or sale is not authorized. The offering is made solely by the Prospectus, which more fully describes certain risks involved in a purchase of securities. The securities are not FDIC or SIPC insured, are not bank deposits, and are not guaranteed by any federal agency.
As we carefully emerge from a difficult and destabilizing year, it's evident that community resiliency is more important than ever. Cities and communities across the country have used this challenging time for self-examination and envisioning positive change. What about our cities serve us well? What doesn't? How can we re-open and re-build to promote greater equity and improve quality of life?
With this ethos of creativity and optimism, Homewise has joined with Anchorum St. Vincent and Enterprise Bank & Trust to create a new vehicle for building vibrant, healthy communities in central and northern New Mexico—the Community Catalyst Fund. We invite you to participate in this exciting effort by making an investment in the Fund.
This investment advances high impact and much-needed community development initiatives in Santa Fe, Albuquerque, and other communities in northern and central New Mexico by financing affordable housing and mixed-use developments, creating new homeowners, helping homeowners make home improvements, creating low-impact rental housing through casitas and guest houses, and helping seniors make necessary home modifications to age in place. Community Catalyst Fund initiatives are intended to benefit the entire community by catalyzing development projects and creating new financial products and tools to make these development projects affordable and accessible, positioning New Mexico communities to make a meaningful and lasting impact on affordable housing while helping to create a healthier and more equitable future.