pushing boundaries and narrowing gaps
We're creating a national homeownership strategy in conjunction with policymakers, subject matter experts, and neighborhoods across the country. All Americans should have the opportunity to build equity and narrow the racial wealth gap.
by household

215

single and unrelated adults

67

single parent

116

married with children

58

married with no children
 

by age group

20

20-24 years

133

25-34 years

167

35-44 years

145

45+ years
by employer

89

National business

78

Healthcare

71

Hospitality

70

Local business

66

Government

63

Education

52

Construction

43

Self-employed

38

Nonprofit

20

Finance
102 points
average increase in credit score
for clients who started with a score under 640*
$8,167
median increase in savings
for clients who started with less than $5,000 savings*
$243
monthly decrease in debt
for clients who started with 10% or more debt ratio*
*clients who successfully completed the steps in their financial action plan

Fiscal year 2022 saw the public launch of Homewisdom, Homewise's thought leadership initiative to increase awareness and understanding of homeownership's social, environmental, and economic benefits and to inform public policy through the development and dissemination of original research.
In addition to releasing four research reports exploring a diverse spectrum of homeownership topics from the racial homeownership gap to the climate impacts of housing unaffordability, Homewisdom partnered with housing organizations in Ohio, Georgia and Illinois to highlight through maps the unintended and damaging consequences of HUD policies and worked with Policymap to map the racial homeownership gap throughout the U.S.
Launched this spring, our Homewisdom website is an excellent source for data, insights, and policy recommendations to help advance homeownership strategies. The website includes original research and interviews conducted by Homewise CEO Mike Loftin with a broad spectrum of state and national thought leaders exploring the intersections between affordable homeownership and financial security, racial equity, environmental justice, and health.
Communities for traditional
82 new homes
South Santa Fe
Desert Sage is the newest Homewise Homes residential community in Santa Fe. The neighborhood boasts a variety of high quality and energy efficient single-family housing types, and offers 10 acres of native open space and walking trails. The neighborhood accommodates a mix of income levels with forty percent of the homes priced to be affordable to families under 80% of the Area Median Income (AMI). Several floorplan options are available including 2-, 3-, and 4-bedroom models. The colorful, native, and drought tolerant landscaping compliments the Santa Fe style earthen stucco exteriors with a pop of color. Desert Sage residents will enjoy easy access to town, along with vast Sangre de Cristo Mountain views and access to the City's larger open space and trail system. The neighborhood is also near shopping, major hospitals, and is next door to a school. Pre-sales for Desert Sage homes began in October of 2021.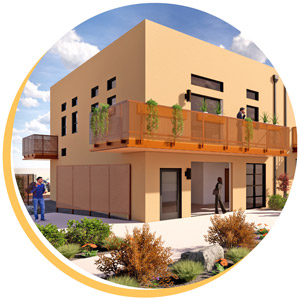 El Camino Crossing Mixed Use Spaces
20 new homes
Central Santa Fe
Twenty live/work condominiums designed for the operation of a small business or home workplace opened for sale at El Camino Crossing in Santa Fe in April 2022. The two story live/work units provide superb energy efficiency, state of the art appliances, and the perfect layout to cater to entrepreneurs, artists, and flexible lifestyle enthusiasts. 
The live/work units add a much-needed supply to Santa Fe's housing inventory. Units start at $389,500, with at least four units reserved for lower income buyers and priced below $197,000. These units became available at a particularly critical time to provide more affordable options for Santa Fe's working population.
The next and final phase of development at El Camino Crossing includes the addition of two commercial buildings hosting two locally owned restaurants–Escondido and Tender Fire–and the Flywheel collaborative co-working center. When completed, the El Camino Crossing community will be comprised of 40 single family homes, 13 residential condos, 20 live/work spaces, and commercial amenities, all built by Homewise with the support of New Markets Tax Credits and our Community Catalyst Fund.
What was once a vacant lot in an underserved area of Santa Fe is now a vibrant community serving a variety of individuals and families with unique housing opportunities and new businesses that will contribute to the economic growth of the Siler/Rufina area and Santa Fe as a whole.
This year, Homewise broke ground on sixteen townhouses, transforming a formerly vacant lot in downtown Albuquerque into affordable, modern living spaces in the center of the City. The homes will feature modern amenities and a variety of floor plans for families of all shapes and sizes, with sales prices starting at $325,000, and at least 4 homes priced to be affordable to buyers under 80% AMI. The location of the homes provides easy access to downtown amenities, a grocery store across the street, transportation and educational institutions. With an expected construction completion date in the Fall, Palladium Townhomes will contribute to downtown Albuquerque revitalization through infill development and provide affordable opportunities for families to own their own home.
Feeling the love in Cochiti:
home purchase marks the return to New Mexico for long-time traveler
Maria, an educator and artist, was born in New Mexico to a military family who moved to New York when she turned one. After living all over the world, raising her own family, and earning a PhD, she was ready to return home. Although she works in Santa Fe, she was looking for a more relaxed, rural lifestyle. She found just what she hoped for in Cochiti, a short and beautiful commute just west of Santa Fe where she can become part of a close community of friends and coworkers who also live there.
partnership with local organization brings mental health services together in one space to better serve vulnerable clientele
One of the toughest challenges that cities face is navigating how to best help people who are struggling with homelessness and mental health challenges.
The Life Link is a remarkable organization that provides our community in Santa Fe with the services needed to help people at critical transition points – whether it be recovery from addiction or adjusting to life outside of incarceration. "The Life Link is a longstanding organization that has very deep roots and a long history with this kind of work, which is one of the reasons we were so excited to partner with them," said Homewise President Laura Altomare. "People have so few places to turn for accessible, culturally appropriate assistance. The Life Link does so much good for those most in need."
The Life Link rents and owns multiple buildings because of the multitude of services they provide. They hoped to benefit from a synergy of services by having housing services, supplies, clinical rehabilitation services, and a base for city and county outreach all in one place.
"We wanted to bring all of us and all of our services together into the same space," said The Life Link CEO Michael DeBernardi, PsyD, MS. "What we didn't realize when we were envisioning this was that by purchasing our own property we would also benefit from monthly mortgage payments that were just one-third of what we were previously paying in rent!"
Homewise partnered with The Life Link through the process of financing the purchase of their property and with the help of a Homewise commercial loan and additional grant funding from another source, The Life Link acquired a 2,600-square-foot property.
"Homewise made it easy to work through the process needed to qualify for financing. That was not our core competency," added DeBernardi. "Because we partnered with Homewise we were able to get an affordable loan to cover the cost of purchase that exceeded our grant funding, and position ourselves for the future."
The Homewise commercial lending program was designed to help businesses and organizations to own their own facilities. Homewise believes that when we can help a business or organization to own their own facility instead of renting it, that business or that nonprofit organization is set up for long-term financial wellbeing and success.
The Life Link has been serving the Santa Fe community since 1987. Its mission is to help hungry, homeless, and displaced individuals and families achieve self-sufficiency through emergency assistance, housing, employment services, and other supportive programs including advanced addiction and mental health treatment services.
First we listen, then we respond
In 2020, Homewise partnered with NeighborWorks America and the Barelas neighborhood in Albuquerque to conduct the Voice of Barelas Survey. This nationally vetted survey helped us to understand the needs of the community through the eyes of its residents. As a result, Homewise is now actively participating in the development of two community projects.
Barelas Central Kitchen:
a partnership between Homewise and Street Food Institute
Location: 1411 4th St SW, Albuquerque, NM
Barelas Central Kitchen will be a commissary and training facility to support entrepreneurs engaged in emerging local food businesses. It will be located at 4th & Bell, a large commercial building in Barelas with a long history of experimental arts and food production. The 11,000 square-foot facility will include certified commercial kitchens, a culinary classroom, community event space, and office and production space for entrepreneurs.
This facility and community resource will enliven the neighborhood, help launch the next crave-worthy spot, and support local, regional, and national economic plans. Additionally, the project will:
Generate 50 quality, accessible jobs
Create new businesses and increase revenue for existing businesses
Improve supply to broader market chains
Create affordable work spaces for local entrepreneurs and artists through flexible leasing rates
Provide critical community space for cultural activities that enhance social cohesion
Increase access to healthy, locally produced foods
In 2020, Homewise conducted a nationally vetted NeighborWorks survey that identified having more restaurants in the neighborhood and job related resources among the top priorities for Barelas residents.
COVID-19 has been harsh on restaurants and food services. In New Mexico, sixty percent fewer small businesses in the leisure and hospitality sector were open in January 2021 compared with a year prior. The New Mexico Restaurant Association estimates we may lose one-third of restaurants. Despite this, interest in food businesses remains strong. Sixty-three percent of food entrepreneurs based in Albuquerque stated in a survey that they use commissary kitchens regularly. To support both existing and new entrepreneurs, we need infrastructure—specifically shared spaces that help businesses start and scale affordably. There are only a few shared commercial kitchens in the metro area and they are over-capacity, creating a bottleneck for entrepreneurs.
Early education options:
a partnership between Homewise and Koala Children's Academy
Location: 817 2nd St SW, Albuquerque, NM
Koala Children's Academy will be a high quality bilingual early learning center located at the historic corner of Second and Hazeldine, directly across from the Railyards. Silvia Vasquez, who started a home daycare a decade ago, established a five-star early learning center, and has provided technical assistance to home daycares across the city, is launching Koala Children's Academy with her daughter-in-law, Dayna Vasquez. The daycare will occupy 3,432 square feet and will serve roughly 60 children, from infants up to age five. Additionally, over half of the slots for this 5-star daycare will be held for low-income families who use state subsidy to pay for their services. It will also provide about 12 full time jobs.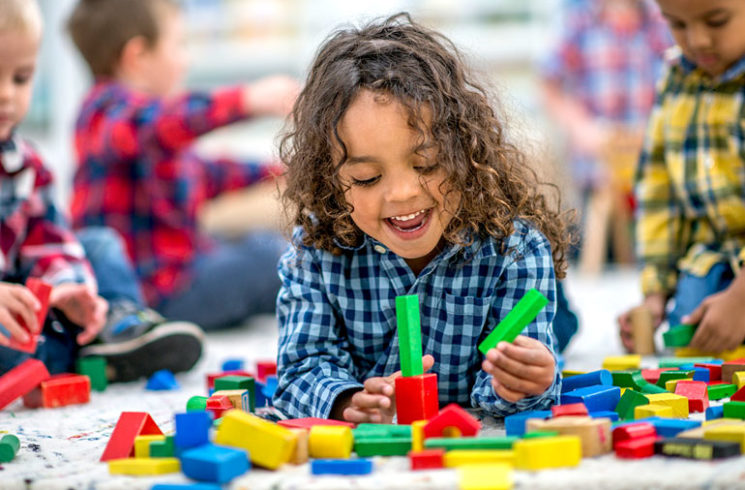 Brain development and lifelong gains
During the first five years, a child's brain is at its most flexible, making this a critical period for learning and growth. Children who receive a high quality early childhood education are proven to perform better in kindergarten, but the gains extend into the future. These children are also more likely to earn higher wages, live healthier lives, avoid incarceration, raise stronger families and contribute to society.
Daycares are a great investment for society
Investments in high quality early childhood education can generate up to $7.30 per dollar invested. Access to stable, high-quality childcare helps parents improve their labor productivity by increasing work hours, missing fewer workdays and pursuing further education.
In 2020, one in five (19.6%) of working-age U.S. adults said the reason they were not working was that COVID-19 disrupted their childcare arrangements.
According to the U.S. Census, 30% of Barelas residents have children under 18. However, there are only two five-star childcare operators and only eight total infant spaces in the entire neighborhood.
successful Albuquerque entrepreneurs further invest in business—and community—by purchasing building
Christina and Carlos Davis, owners of Trendz Beauty Supply, launched their business in December 2010. They wanted to start a beauty supply company specializing in hair and wigs, after having several negative customer service experiences with other hair stores. They saw a need to offer high-quality hair pieces at affordable prices with a focus on providing excellent customer service, and intentionally marketed their shop to a wider audience including Caucasian, Hispanic, and Indigenous customers, who they believed were underserved by the offerings in the current marketplace. Since opening their original shop of 1,700 square feet, they have grown their business with a loyal customer base. They first moved to a 3,000 square foot shop, and then to their current 8,000 square foot location with an additional warehouse space next door of another 2,850 square feet! Christina and Carlos rented the store space for Trendz, but always wanted to own their own building. 
In 2018, they began working with the International District Economic Development Department (IDED), which specializes in providing technical assistance and financial consulting to small businesses who want to grow. Homewise also has a partnership with the IDED, and that was the connecting point for Carlos and Christina to meet us. When they learned that the owner of the building where they were renting store space was interested in selling it, they began working with Homewise to obtain financing to buy it.
With their entrepreneurship, creativity, dedication to hard work and serving their customers and community, it was a perfect match. Their vision doesn't end with their business. Carlos and Christina also believe in giving back to help strengthen their community. They donate wigs and gift cards to various cancer societies, as well as wigs and monetary funds to domestic abuse shelters, throughout New Mexico. They also host toy and food drives for their local community during the holidays.
In June of 2022  Carlos and Christina purchased the building where they own and operate Trendz Beauty supply with an affordable commercial loan from Homewise. Homewise launched our commercial mortgage loan program in partnership with the New Mexico Small Business Investment Corporation (NMSBIC) to provide affordable capital to help small businesses and nonprofit organizations own their buildings instead of rent. This initiative helps to increase financial wellbeing for small business owners and nonprofit service providers, as well as create opportunities for positive economic development by revitalizing disinvested commercial districts without displacing these creative local entrepreneurs who provide needed community services.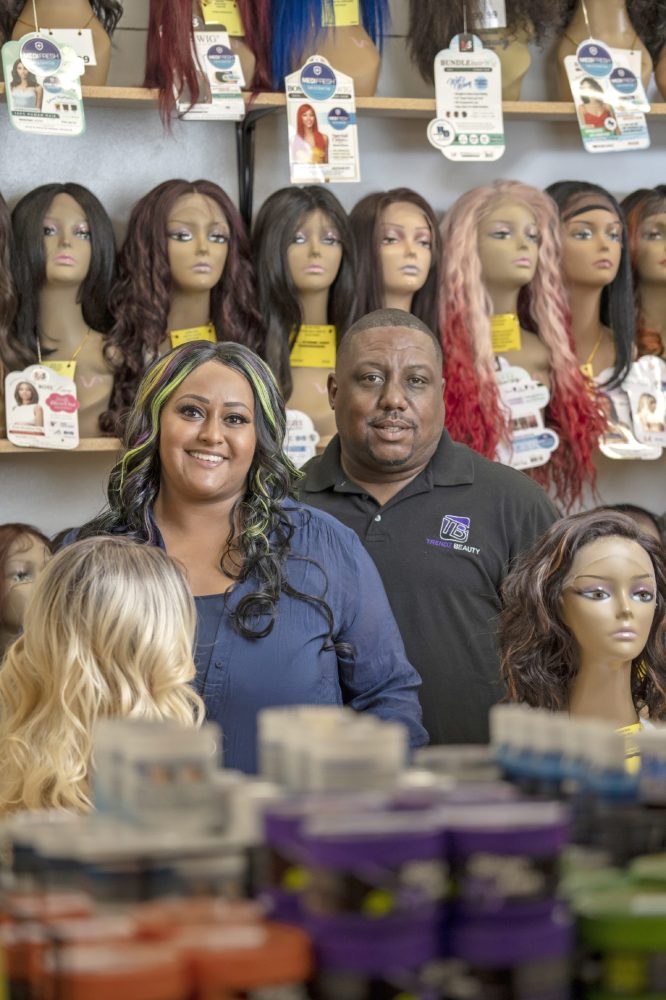 Better financing for non-traditional homebuyers:
helping people with Real Estate Contracts switch to safer, more affordable mortgages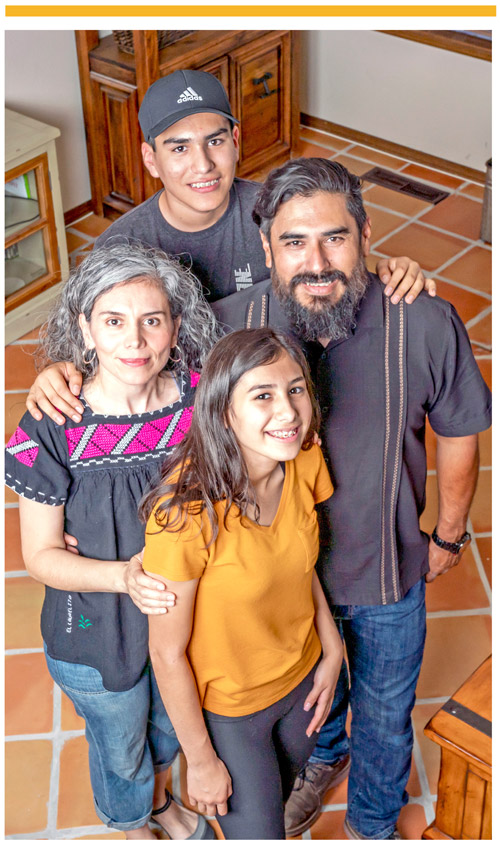 This year, Homewise received an 'Equitable and Inclusive Lending Initiative' grant from NeighborWorks America to further our work in helping Hispanic homeowners who previously purchased their home with a potentially predatory Real Estate Contract (REC). Spanish-speaking and immigrant populations have been historically disadvantaged when it comes to affordable homeownership opportunities and are often targeted and deceived into thinking that the only way to buy a home is with an REC. RECs are not held to the legal standards of a typical mortgage used by legitimate lenders and often include very unfavorable terms such as high down payments, high interest rates, short contract terms and unaffordable balloon payments. If the buyer is not able to meet these terms, they could lose their home without any legal foreclosure process, along with all the money they invested through their down payment and monthly payments.
Homewise used this grant funding to conduct intentional outreach to these families, the vast majority of whom are Hispanic and Spanish-speaking only. Many also have an ITIN (Individual Tax Identification Number) instead of a Social Security Number and because of that, were lead to believe that they would not be eligible for a traditional mortgage loan. This year, Homewise helped 15 families understand the true terms of their REC and refinance into a safe, affordable, 30 year fixed-rate mortgage so that they will not lose their home, equity and wealth. Almost all of these families did not initially understand the terms of their REC nor did they understand the risk of losing their home if they did not pay off or refinance the balance before the looming deadline of the large balloon payment. By working with our team of Spanish-speaking financial coaches and lenders, these families are now able to keep their home and have a fair shot at building long-term, sustainable wealth for their family.

Your generosity is making a difference
Financial
Institutions
Ally Bank
Bank of Albuquerque
Bank of America
Bank of the West
Enterprise Bank & Trust
Fidelity Bank
First National 1870
Hillcrest Bank
Kirtland Federal Credit Union
New Mexico Bank & Trust
Nusenda Credit Union
Self-Help Credit Union
Texas Capital Bank
UBS Bank
United Business Bank
U.S. Bank
WaFd Bank
Wells Fargo
Foundations
Albuquerque Community
Foundation
Anchorum St. Vincent
Daniels Fund
Frost Foundation
Illinois No 3 Foundation
Kalliopeia Foundation
The Kuhn Foundation
Los Alamos National Laboratory
Foundation
McCune Charitable Foundation
Erich and Hannah Sachs Foundation
Santa Fe Community Foundation
Wells Fargo Housing Foundation
Community Businesses, Government Agencies and Nonprofits
CHRISTUS Health
CHRISTUS St. Vincent Regional Medical Center
City of Albuquerque
City of Santa Fe
CDFI Fund, US Treasury
Housing Partnership Network
HUB International & Central Insurance
National Association for Latino
Community Asset Builders
NeighborWorks America
NeighborWorks Capital
New Mexico Mortgage Finance
Authority
New Mexico Small Business Investment Corporation
Opportunity Finance Network
PNM Resources
Prosperity Works
Sandia National Laboratories
U.S. Economic Development Administration
Religious Institutions
The Domestic and Foreign Missionary Society of the Protestant Episcopal Church
Mercy Investment Services
Religious Communities Impact
Fund
Seton Enablement Fund
Sisters of Charity of the Incarnate Word
Individuals & Investment Funds
Ann Alexander and Richard Khanlian
Anonymous
Avalon Trust
Avalon Trust clients
Balanced Rock clients
Joel Frederick Barber
Anne Beckett
Beth Beloff and Marc Geller
Erika and Glenn Campos
Lawrence Carreon
Antonia Contro and George Marquisos
Jill and Paul Cook
Quarrier and Phillip Cook
Susan and Conrad De Jong Fund
Lori and David Delgado
Anne Messbarger-Eguia
Cliff Feigenbaum
Kristina Flannigan
Fresh Pond Capital clients
Gwen Gilligan
Elena Gonzales
Goulston & Storrs clients
Edward Grasskamp
John Guffey
Naomi and Robb Hirsch
Martha Hollar
Michael Kelly
Sally Kuhn
Joseph Kunkel
Teresa Leger de Fernandez
Nahum Ward-Lev
Ann Lockhart
Viola Lujan
Susan Matteucci and Michael Loftin
Genevieve and A. Paul Mitchell
Felicia and Daniel Morrow
Julie Moss
Mariel Nanasi and Jeffrey Haas
Kay Naranjo
Agnes Noonan
Josue Olivares
Laura M. Orchard
Karen E. Orso
Cynthia Piatt
Lynne and Joseph Ptacek
Valeri Purcell
Stacy S. Quinn
Adam Roberts
Marissa Ruyle
Miriam Sagan
Lidia Carbonera-Sanchez and Daniel Slavin
Dr. Shelle Sanchez
Gail Saunders
Tom Saunders
Wilson Scanlan
Jenna Scanlon
Elizabeth and Richard Schnieders
Nan Schwanfelder
Rebecca Sheff and Ethan Stone Tikkun Olam Fund
Martha and Patterson Simons
Linda and Andrew Spingler
The Sustainability Group clients
Alexis Tappan
Trillium Asset Management clients
Kathy Ulibarri
Mary and Mark Vanderlinden
Paul Vogel
Debra A. Walsh
Carla Weil
Paul Zelizer
Impact investing, what difference can it make?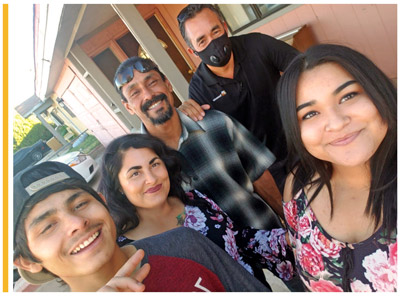 Contact Darcy Arcand, Grant & Impact Investment Manager, to learn more about investing in the Homewise Community Investment Fund.
The Notes are offered to both individual and institutional investors who reside in states in which our Notes are registered or exempt from registration. This currently includes: Alaska, New Mexico, California, Colorado, Connecticut, Hawaii, Illinois, Iowa, Maine, Massachusetts, Mississippi, New York, Rhode Island, Texas, Utah, Vermont, Washington, Wyoming.
Past performance is no guarantee of future performance or success. There is no suitability or fiduciary obligation performed for an investor by the issuer or any of its representatives. Investors should consider diversification in their investments. This notice is not an offer to sell or the solicitation of an offer to buy, nor shall there be any sale of securities in any state in which such offer, solicitation, or sale is not authorized. The offering is made solely by the Prospectus, which more fully describes certain risks involved in a purchase of securities. The securities are not FDIC or SIPC insured, are not bank deposits, and are not guaranteed by any federal agency.
Are you seeking to build a positive future for New Mexico with a healthy, equitable, and inclusive economy that leaves no one behind? Homewise Community Investment Fund (HWCIF) provides prospective investors just like you with a stable, fixed-rate investment opportunity that generates both positive financial returns and helps our lower-income neighbors grow wealth and achieve lasting financial stability through affordable homeownership.
HWCIF welcomes investors at every stage of life and experience to join us in support of a better tomorrow through a minimum investment of $1,000. The Fund offers fixed-rate interest payments from 0.5% to 3%, based on your choice of an investment term between 1 and 15 years. Your investment gets straight to work in advancing change by helping Homewise leverage additional capital from foundations, government agencies, institutional investors and others aligned with our values.
Impact investments demonstrate that financial return and meaningful impact can exist side by side. Your HWCIF investment will help finance safe and affordable fixed-rate mortgages that create homeowners, energy and water conserving home improvement loans and the construction of new affordable and energy-efficient homes.