A Home for Making Memories
For Karla and Gabriel, their favorite childhood memories revolved around growing up in only one home. When Karla and Gabriel moved to Albuquerque with their two children a year ago, they decided they wanted to create a stable home for their kids too. They were also thinking about the future, and wanted to have an herencia, or inheritance, to pass down to their children. Since coming to the United States from Mexico, Karla and Gabriel always knew they wanted a home of their own, but they thought the process would be difficult. They came to Homewise with the encouragement of their friend, Maria Jose, who is also a Homewise Home Purchase Advisor, and she helped them get started on their journey toward becoming homeowners.
"As a child, I grew up in one home, and it was my parents' home. My memories are filled with neighborhood friends and all of us growing up together. I never knew what it was like to live in more than one home. When I was young, I lived in the same home and it's nice to have memories from the same home."
Karla
Proud Homeowner
In their first financial coaching session, they learned from Maria Jose that they would need to work on building credit and to do that, they needed to obtain a credit card. They also needed to start saving money for a down payment. When Karla and Gabriel first walked into Homewise, they had an 8-year plan to save up money for a large down payment to purchase a home, but with a Homewise loan, a large down payment was not necessary. Their 8-year plan ended up only taking 6 months! 
Soon afterwards, they were ready to start looking for their home. When searching for a home, Gabriel had specific characteristics in mind. He wanted a large backyard for grilling and entertaining, each of his kids to have their own bedroom with space for them to study, and a large, welcoming home to entertain friends from out of town. They worked with Homewise Realtor®, Ambrose, and felt very comfortable with him. Ambrose gave them helpful advice during their home search and was always available when they needed him. With his help, they were able to find the perfect home. 
When they moved in, their first moments alone in their new home were emotional ones. Gabriel said, "I couldn't believe it. I think it took many days for us to finally feel like it was our home." "Everything remains the same. I still do the same daily activities, my children still go to the same school, I still have the same friendships, but I feel completely different and I wake up every morning knowing that I am a homeowner," explained Karla. They spend a lot of time together as a family in their new home, playing with their dogs Chayo and Tintan and playing games, like lotería, the Mexican version of bingo. "Our children are in high school right now, they'll attend college soon, and they may possibly live on their own. I at least want them to have these memories of having their own home before they leave," said Karla.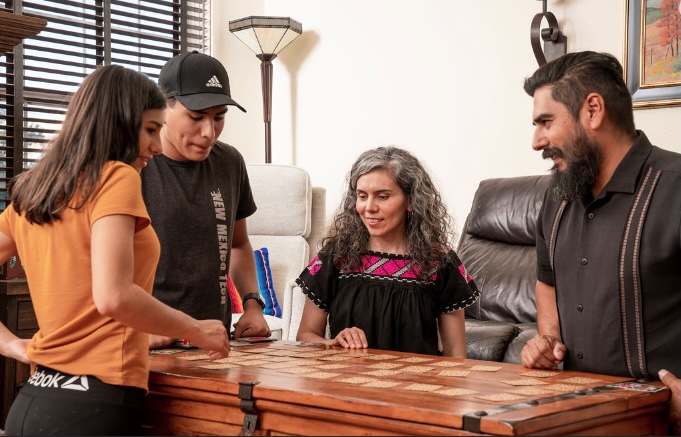 Gabriel is currently working on the home and adding details to make the space their own. Their kids have their own rooms and space to study, Gabriel has the large patio to grill, and they have friends visiting from out of town regularly. When asked what advice they would give to a friend or family member considering homeownership, Karla said, "Save money and work on your credit. Get rid of unnecessary spending from your life, and think about what is more valuable, becoming a homeowner or having the latest cell phone?" Karla and Gabriel love Homewise and recommend them to everyone. "We felt like we were more than just a business transaction," said Gabriel. "It was much more humane and caring. Homewise wants people to be successful homeowners."