Defying the Odds: Maria Luisa's Story
When Maria Luisa first came to the United States from Mexico, it was her dream to own a home and create a better life for herself.
However, the better life didn't come easily and her life went down the road of alcoholism and drug addiction. She eventually found herself living on the streets of Santa Fe. In 2005 she decided to turn her life around starting with sobriety and learning English.
Maria Luisa continued on her path toward recovery by attaining her U.S. residency, receiving her GED, and taking classes at the Santa Fe Community College to work toward a certificate in community health. During this time, a friend referred her to Homewise and  she decided to take the next step toward purchasing a home.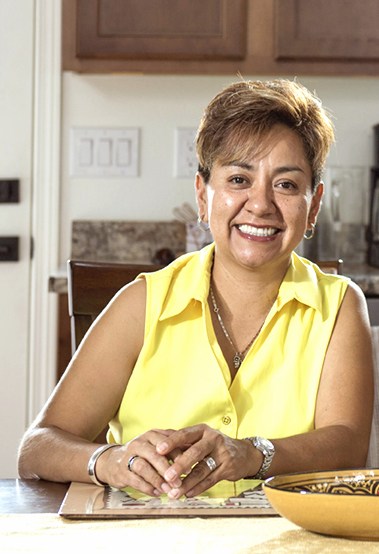 She met with her Homewise Home Purchase Advisor, Claudia, who offered Maria Luisa guidance and helped her gain confidence throughout the home buying process. Prior to meeting with Claudia, Maria Luisa didn't understand how credit worked, but was pleasantly surprised to find out that she already had established good credit and just needed to work on paying down balances on her credit cards.
After a few months of working on her finances, Maria Luisa was ready to buy a home. She looked at several homes but nothing jumped out at her. Then she learned about El Camino Crossing, a new Homewise Homes community right in the heart of town. She immediately found her future home in the Sandia model, a newly-built two bedroom, two bath home with solar included! The timing of finding her new home and receiving her U.S. Citizenship just happened to coincide, and at that point Maria Luisa felt as though everything was falling perfectly into place.
Her dream to own a home started in Mexico, where her grandparents owned a farm with lots of animals and flowers everywhere. Her grandmother loved flowers and spent hours talking to them every day. When she passed in 2017, Maria Luisa was devastated. Her grand-mother was the most important person in her life, the person who believed in her and always told her she would achieve her dreams. To honor her memory, Maria Luisa plans to grow flowers around her new home. Maria Luisa received the keys to her new home on the one year anniversary of her grandmother's death. She cried as she spoke with her grandmother's spirit, though her tears were in happiness and awe that she actually did it. She achieved her dreams of becoming a citizen and owning a home. She felt as though her grandmother could see the future.
Maria Luisa is now settled in her new home and loves the El Camino Crossing community and her neighbors as well. Owning a home has inspired her to start cooking because she enjoys the "smells of home." Maria Luisa says that being a homeowner "lifts my spirits and gives me confidence in my future." When reflecting on what she has achieved, she says simply, "This is my place. I did it!" She attributes her success to Homewise and to her grandmother for giving her the support to achieve her dream. Maria Luisa's life could have easily gone down a different path, but her strength, determination, and belief in herself led her instead on the path to success.