Get to know Homewise's Aaron Aispuro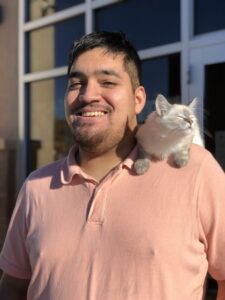 How long have you worked at Homewise?
I have been at Homewise for three and a half years, since April 15th, 2019.
What is your position at Homewise, and how long have you been in that role?
I am a Home Buyer Coach, and I help people at the beginning of the home purchase process to help them assess their financial situation and work toward qualifying for preapproval. I have been in this role for one and half years, since December 2020.
What is your favorite part of working at Homewise?
My favorite part so far has been offering a service that most other lenders don't offer, and for free! Any lender can tell someone whether or not they qualify for a mortgage, but only here at Homewise do we guide them to help people work on their financial situation so they can be eligible in the future. As a lender, we already know what the guidelines for a mortgage are, so I'm glad to be part of a team that passes that information down to our clients.
If you had one bit of advice for anyone getting started working with Homewise what would it be?
For new clients and new employees alike, I would encourage them to ask as many questions as they need to understand each step of the home purchase process. There is no such thing as a dumb question or too many questions, and every new answer they will receive will make the process less scary and less confusing. It's never a bother to me to answer a question, even if it's something I've been asked before.
Is there anything else you'd like to add about yourself or your role at Homewise?
No matter what position I take on at Homewise, I always want to be in a role where I work directly with clients. Speaking to people and helping them get a little closer to their home purchase goals makes the long hours in front of the computer worth every single second.