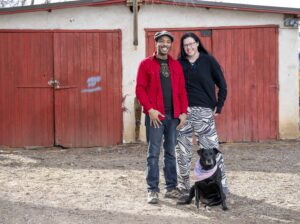 Growing up as a 'Navy brat' who lived in four different states as well as three years in Japan, Jerome developed a wide variety of interests, both artistic and technical in nature. As a young adult, he continued to travel in pursuit of a graduate degree and to build a career. During this time, he always rented small spaces and kept his personal belongings in storage. When Jerome moved to Santa Fe to work at Meow Wolf as a design technologist, he felt ready to settle down, gather his belongings, and create a space where his artistic endeavors could become part of their everyday home life.
While still renting in Santa Fe, Jerome became friends with Julian, another artist at heart who was living in Albuquerque. Julian shared that it's "not hard to live inexpensively in Albuquerque, but it is not easy to make a secure income." Julian's varied work history includes writing, teaching, culture advocate and event specialist.
When Jerome and Julian met, they were both living in small, humble studio rentals; they joked that between the two properties they had one, full house. Realizing how much they had in common, especially their enjoyment of performance, music, and art, the two developed a close bond. A year and a half into their relationship,
they decided to move in together. While they loved having the additional space in their new apartment, they were both still spending a lot of money on storage units, and were frustrated at the amount of time they spent accessing their belongings. Jerome and Julian decided it was time to take the plunge and buy a home that could accommodate all their interests.
Jerome heard about Homewise through coworkers who had purchased homes through the nonprofit. He made the call and began to work with Anda, a Home Purchase Advisor, to get his finances in order. He found the educational classes to be informative and convenient for his busy schedule.
Next Jerome and Julian began looking at homes with their Homewise Realtor, Victor, who they felt was great to work with. They found a home on a quarter-acre of land, the biggest lot in the neighborhood. The property includes a large barn-like structure which they have since transformed into an art and music space.
The couple were able to get through the home purchase process in a little over a year, and were even able to close on their home right before interest rates started going up. They also received substantial downpayment assistance through Homewise, which got them past what Jerome considered their most challenging hurdle.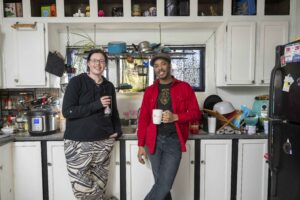 For Jerome, becoming a homeowner brings "freedom, autonomy, financial stability, and generational wealth; and it's great not having to deal with a careless landlord." Julian appreciates the security that homeownership provides, and feels it is a great investment in their financial wellbeing. They now have space to paint murals, play music, work on big art projects, and not bump into each other in their kitchen.
Jerome's advice to others who are considering buying a home is to believe in yourself, the process, and the possibilities. "Ask for help and allow yourself to receive that help. Talk to friends who have gone through the home purchase process and get advice." Julian added, "once you have the audacity to believe in yourself, go ahead and
go through Homewise."