Mary Sells a House and Gains a Home with Homewise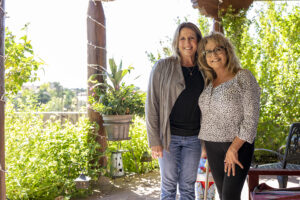 Mary and her husband lived in their Santa Fe home for 33 years. After raising their children and watching them fledge the nest, they were ready for a big change. Although they shared many happy memories in their home, they decided it was time to sell. Mary's husband missed having a garage where he could store his tools and work on cars. And since their kids were grown, they no longer needed 3 bedrooms and wanted to downsize.
Mary was working with another real estate agency, but felt they were not responsive enough to her needs. She remembered seeing a post card from Homewise promoting listing services and decided to call. "I never knew Homewise could help sell houses, I just thought they helped you buy!" said Mary.
Mary started working with Homewise Realtor Erin, but felt nervous about selling her home of 33 years. Erin gave her some space and told Mary that she would call her back in a few weeks. "Erin gave me time to process my feelings and was just so great and patient." Erin continued to check in with Mary periodically until Mary called to say she was ready to sell her home. "Erin showed up at my doorstep almost as soon as I hung up the phone!" Erin helped Mary prep her home and it sold in a week. "Erin was great at communicating and a great collaborator," noted Mary about the whole process. "Anyone I called on my realtor team was great; I could text or email and they would immediately respond. I didn't expect it to be this smooth."
When Erin asked Mary what her next steps were, Mary responded that she and her husband were ready to move into a new home. They found a home that they really liked, but it was under contract. Erin was still able to get them in to see the house, and when they expressed interest, she helped them make a backup offer. Luckily, the first offer fell through and Mary and her husband were able to purchase the home. "Erin stayed on top of everything," shared Mary. Erin was even able to negotiate with their lender for a lower interest rate and arranged for them to close faster.
Not long after settling into their new home, Mary and her husband found out they had a grandson who they lovingly welcomed into their lives and home. Mary now spends her days working from a home office and caring for her grandson. She is also very happy to be spending more time with her Mother, who lives only 4 minutes away. "We are very happy in our new home. I tell everyone you have to go to Homewise, go see Erin!
Interested in selling your home with Homewise? Learn more HERE >