New Home and Family for Ruby
Ruby, a collie mix, had a rough start to her life when she was found neglected and physically abused in her owner's backyard. Luckily, she was rescued by Sandoval County's Animal Ambassador Program. However, the next hurdle Ruby faced was whether the program could find a foster family that was willing to provide a temporary home and would be able to help Ruby overcome her fear of humans and the outdoors.
Patrick and Emily were an animal-loving family and renters. While they liked their apartment, they were not happy that their rent was going up. They came to Homewise when a friend recommended their services. They learned that the money they were spending on rent would be more than the monthly mortgage payment for a home of their own. They spent some time researching where to obtain the best home financing. "We decided to work with Homewise because we felt like we wanted to support a non-profit, and we aligned with their mission," said Patrick.
Their realtor, Rick, understood that it was a priority for this couple to find the right home that would allow their cats, Marge and Obsidian, to be safe indoors with plenty of outdoor space for their dog, Ollie. They spent a lot of time looking at homes and putting in offers, only to be turned down. Patrick and Emily remained consistent and determined and finally found the right home. As soon as they moved in, they contacted the Animal Ambassador Program to become foster parents. This was when they met Ruby, their first foster dog.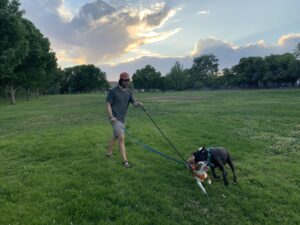 "Ruby was scared of us when she first arrived, so we knew she must have dealt with some trauma," said Emily. With plenty of care and patience, Patrick and Emily were able to work through her struggles and help her become a confident puppy for her future family, just like the confidence Emily and Patrick experienced when they found the right guidance at Homewise and became homeowners.
After a few adoption home visits, Ruby finally found the perfect family. She now lives with two other dogs that have welcomed her. While Ruby is enjoying her new home, Patrick and Emily have now made room for Humo, a senior Pit Bull terrier who has likely found his forever home.