Making Dreams Come True in Barelas
Raul grew up in the historic Barelas neighborhood near downtown Albuquerque.
In his teenage years, he found his calling cutting hair while working at a local barbershop owned by a well-known and highly respected member of the community. The training and mentoring he received stuck with him. Raul dreamt of one day owning his own barbershop in Barelas where he could welcome people of the community, and carry on the traditions of his predecessor. But just like for most of us, the demands of adult life soon took over and his dream moved to the back burner.
Over the years, Raul faced many challenges. He went through years of struggle with addiction and crime. Reflecting on his past, Raul can't help but be thankful that he met his wife Shamrah during some of the hardest times in his life.
Raul and Shamrah now have three children. Needless to say, money was always tight and living paycheck to paycheck was the norm. But no matter how hard things were, the one thing Raul always looked forward to was going to his son's wrestling matches on the weekends. Seeing the passion that his son had for wrestling made the whole family want to join the fun! Every weekend they would hop in the car and go wherever the next tournament called them to be. They cheered and cheered and were sure to celebrate after each win. As Raul's children became increasingly passionate about sports, being able to support their pursuits became a priority for him. This was the turning point in Raul's life that inspired him to find a way to sobriety and better financial wellbeing.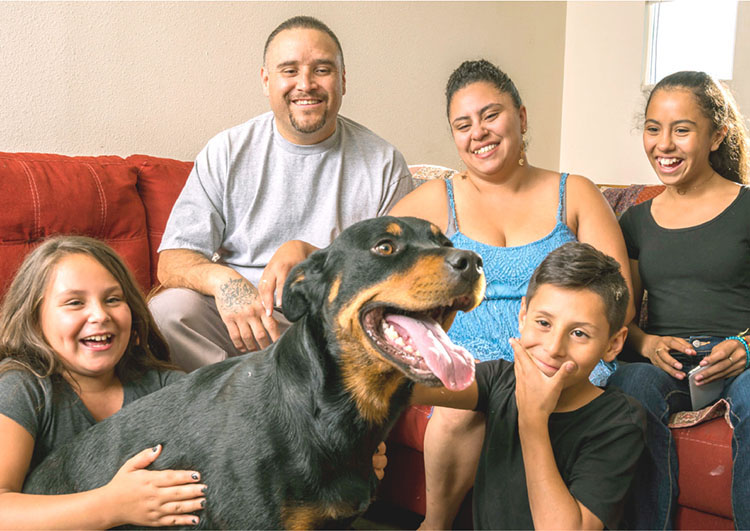 Raul and his wife Shamrah knew that owning their own home was an important step in their long-term financial security and decided to explore what it would take to become homeowners. They learned that they would need to start by working on their credit and save for a down payment. After three years of discipline and hard work, Raul and Shamrah were ready to start looking for a home. During their search, they came across the HomeLift down payment assistance program. HomeLift provides qualified borrowers with funds to use toward down payment and closing costs on their home purchase. This gave them the extra financial boost they needed to make homeownership a reality. They closed on their brand new home nine months later.
With the money they saved by becoming homeowners rather than renters, Raul was able to realize his dream of opening his own barbershop in Barelas just one year after they bought their home.
Today, Raul and Shamrah are saving almost $200 dollars a month over what they used to pay in rent for a much smaller home. For the very first time in their lives, the kids each have their own room and can decorate them any way they want. All three have set up shrine-like displays of trophies and metals they have won. Raul's oldest daughter takes pride in keeping her room nice and tidy and his son loves to hang his school projects up on the walls of his room.
The positive changes in their life brought about by homeownership didn't stop there. With the money they had originally saved for their down payment (and were able to keep because of the HomeLift down payment assistance program) along with the money they were saving each month on their new mortgage payment, Raul was finally able turn his dream of owning his own business into a reality. Supported by his family and friends, Raul opened the Barelas Rose Barbershop just one year after becoming a homeowner.
Fulfilling his dream is still quite surreal to Raul. In the short time that the Barelas Rose Barbershop has been open, he has welcomed friends, family and some of the locals. He is looking forward to further establishing his business roots and to maximizing his impact on the Barelas neighborhood. For example he has turned the extra space in his barbershop into a gym for his family and friends. Raul now spends his days watching his kids hone their athletic skills while doing what he does best in the community he loves.
You may think he has it all, but Raul's plans for the future are just getting started. He's now working on opening the gym to the public and offering a free or low cost martial arts program for other children in the neighborhood. For Raul, personal success has been an inspiration to create greater opportunity and vitality for an entire community.