Get to know Homewise team member Ruben Macias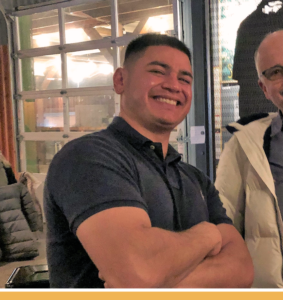 How long have you worked at Homewise?
I have worked at Homewise since October 2022, so about 5 months now, but it feels like much longer since I had such a close relationship with a lot of Homewise employees before joining the team. I also went through Homewise to buy my first home in 2020!
What is your position at Homewise, and how long have you been in that role?
I am the Property and Tenant Engagement manager and it has been the only role I have held. I oversee our residential and commercial properties. I also am involved with projects & outreach within the community development department.
What is your favorite part of working at Homewise?
I have learned so much in such a short amount of time! It's great to work for an organization that is so mission-oriented and allows you to get involved in more than just your role. I have had opportunities to get involved with real estate development, marketing, community outreach, and more!
If you had one bit of advice for anyone getting started working with Homewise what would it be?
Coming from a very corporate background I would advise anyone getting started at Homewise to be aware that although we might look big on the outside we still function as a small non-profit with very big ambitions, so be patient. Ideas and changes are welcomed and if you think a process can be done better then show us. Also, your job description is not a be-all and end-all. Get involved, volunteer, and do more! It is our mission to better the communities we work in.
Is there anything else you'd like to add about yourself or your role at Homewise?
Yes, come learn more about community development and what we do. I feel like we are one of those departments that people aren't aware of or don't really know what purpose we serve. We work closely with different departments for a common goal of serving those in the community. That can include business owners, tenants, stakeholders, residents, current and future clients, and many more. Even though I manage our commercial and residential properties I have also been involved with the recent Los Prados development rezoning, Childcare seminars, and networking with neighborhood leaders and associations. I encourage those in the organization that are curious to reach out!
Interested in joining the Homewise team? Check out our job openings HERE >