Special mortgage rate currently offered on all Homewise Homes
For a limited time, if you qualify to purchase a Homewise Home we can offer a 5.875% 30-year fixed-rate mortgage.*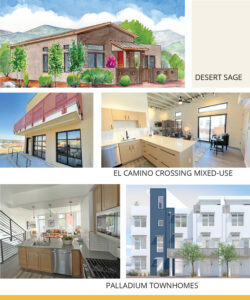 For a limited time, if you qualify to purchase a Homewise Home we can offer a 5.875% 30-year fixed-rate mortgage.* Our current inventory of beautiful Homewise Homes in Santa Fe and Albuquerque are high quality, energy efficient, new construction homes at a variety of price points.
In the Siler-Rufina neighborhood , a hub for creative living in Santa Fe, you'll find wonderful live/work spaces in El Camino Crossing. If you're craving Santa Fe's mountain views and want to be close to schools for your kids, look at Desert Sage. In downtown Albuquerque, adjacent to the culturally-rich Barelas neighborhood, we're offering the Palladium Townhomes.
Get in touch with us today by filling out this quick form to learn more. We are excited to talk to you and show you our Homewise Homes.
Homewise Homes are built by us, for you.
*This rate assumes you are purchasing a single-family home as your primary residence and have a FICO score of 640+. Annual percentage rate (APR) is the true yearly cost of your loan, including any fees or costs in addition to the actual interest you pay to the lender. Example: A $300,000 loan amount with a 30-year term at an interest rate of 5.875% with a down payment of 5%, no discount points purchased, and borrower –paid prepaid finance charges of 2% of the base loan amount equals an estimated monthly principal and interest payment of $1,775 over the full term of the loan with an APR of 6.0630%. Estimated monthly payments do not include amounts for taxes and insurance premiums and the actual payment obligation will be higher.
Loan approval is subject to credit approval and program guidelines. Interest rate and program terms are subject to change without notice.