Homewise is partnering with the Barelas neighborhood to conduct the Voice of Barelas Survey to help understand the needs and perceptions of the community through the eyes of its residents. The survey will cover topics such as quality of life, safety, available services, and what people think about the future of the neighborhood. The survey process is being guided by a Community Advisory Committee consisting of Barelas residents, small business owners and staff from organizations in the neighborhood. The role of the advisory committee is to help oversee the survey process on tasks like developing survey questions that are relevant to the community.
The survey is a two-part process and includes both the resident survey and a neighborhood observation. The observation is a block-by-block and building analysis of the physical conditions of the Barelas neighborhood. This part of the process requires no resident participation but you may see our team out in the streets conducting this work. We will be walking around Barelas to record visual observations of each block in the neighborhood and also randomly selected properties. 
The survey will provide an opportunity for Barelas residents to share their opinions about the community and residents will be asked to participate via mail, email or phone. The survey will begin in mid-June and be completed by mid-September. Responses to this survey will remain confidential.
The information gathered from the resident survey will be compiled into a report with key findings and will be shared with neighborhood residents, businesses, and organizations. 
Voice of Barelas Survey
Share your thoughts today! We encourage you to participate in the survey –it only takes 10 minutes.
Survey designed by Homewise staff and our Community Advisory Committee:
Dr. Gabe Sanchez
Research Consultant
Adrian Pedroza
Research Consultant
Native New Mexican, Native Barelas community, married 34 years, three children. Director of the office of Pastoral Outreach, Archdiocese of Santa Fe. Deacon Sacred Heart Catholic Church, Barelas community, ordained 2007. Bachelor of Science Business Management. Ministries: Detention (Thresholds), People living with Disabilities (Deaf Circle), Senior (Blessings of Age), Liason, St. Vincent de Paul, Liason, Men under Construction. Chair – Roundtable Association of Catholic Diocesan Social Action Directors. Global Fellow Ambassador Educator – Catholic Relief Services. Chaplain- University of NM Hospital. Member National Association Catholic Chaplains. Member National Catholic Partner people living with Disabilities. Member National Catholic Office for the deaf. Board member Barelas Community Coalition.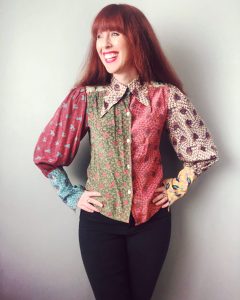 Residente de Barelas/DreamSpring
Grace is born and raised in Albuquerque and has been a resident of Barelas since 2010. She serves as the Director of People & Culture with DreamSpring (formerly Accion) a nonprofit organization that provides capital, financial assistance, and a community of support to small and underserved businesses. Inspired by hard-working entrepreneurs like her parents who both own small businesses in Albuquerque, Grace was motivated to start a vintage and contemporary home décor business in her free time, which she runs out of her home in Barelas. She holds a Master of Business Administration from the University of New Mexico, and a Bachelor's Degree in International Political Economy from the University of Puget Sound.
Valerie Martínez is the Director of History and Literary Arts at the National Hispanic Cultural Center. She is also the Founding Director of Artful Life, an organization dedicated to creating neighborhood-based, collaborative works of art. Both organizations have been working with the Barelas community for many years.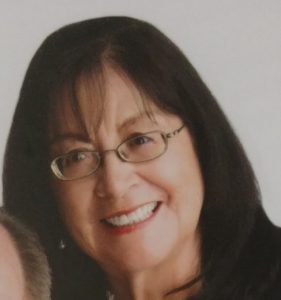 Residente de Barelas de por vida
I'm a lifelong resident of Barelas. I attended Coronado Elementary,  Washington Jr. High & Albuquerque High School & grew up at the Barelas Community Center. My four best childhood friends from Barelas are still a big part of my life.  I raised my two adult children in Barelas.  My only granddaughter attended Kid's Planet Daycare on 4th Street as a baby.
María T. Herrera Bustamante
María T. Herrera Bustamante currently works with the Barelas Youth Art Team organized by Artful Life, a New Mexico-based arts and community organization dedicated to transforming neighborhoods through the beauty and power of collaborative art.  María is also an English As A Second Language (ESL), EL Civics, and Digital Literacy educator at the Center for Educational Opportunity & Career Pathways at Catholic Charities in Albuquerque, New Mexico.  María is from Albuquerque's South Valley, the fifth of seven children born to Mexican parents.  She holds a Bachelor's Degree from the University of New Mexico in Journalism and Mass Communication with a concentration in Advertising along with a Bachelor's Degree in Spanish.  Her energy and love for the arts has guided her to express herself through the performing arts: music, dance, and theatre. María also currently serves as a Board Member with the Albuquerque Theatre Guild.  When she is not teaching, you might find her crafting a song, dancing to salsa, planning for a theatre production, or learning to cook Ghanaian cuisine from her partner as well as spending time with family.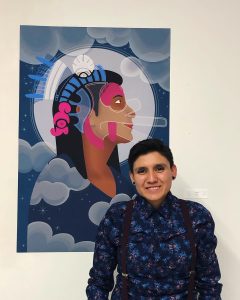 Artist and Community Organizer
Gaby Hernández (they)  is a queer non-binary immigrant artist and community organizer from Ciudad Juarez, Mexico who migrated to the United States at the age of 7. Their passion for social justice is rooted in their own and their communities' experiences navigating systemic barriers in healthcare access, immigration status, and economic disparities. As an artist and community organizer, they aim to use art to shift culture and build community.