Grant Will Provide Down Payment Assistance to Residents of New Mexico's Third Congressional District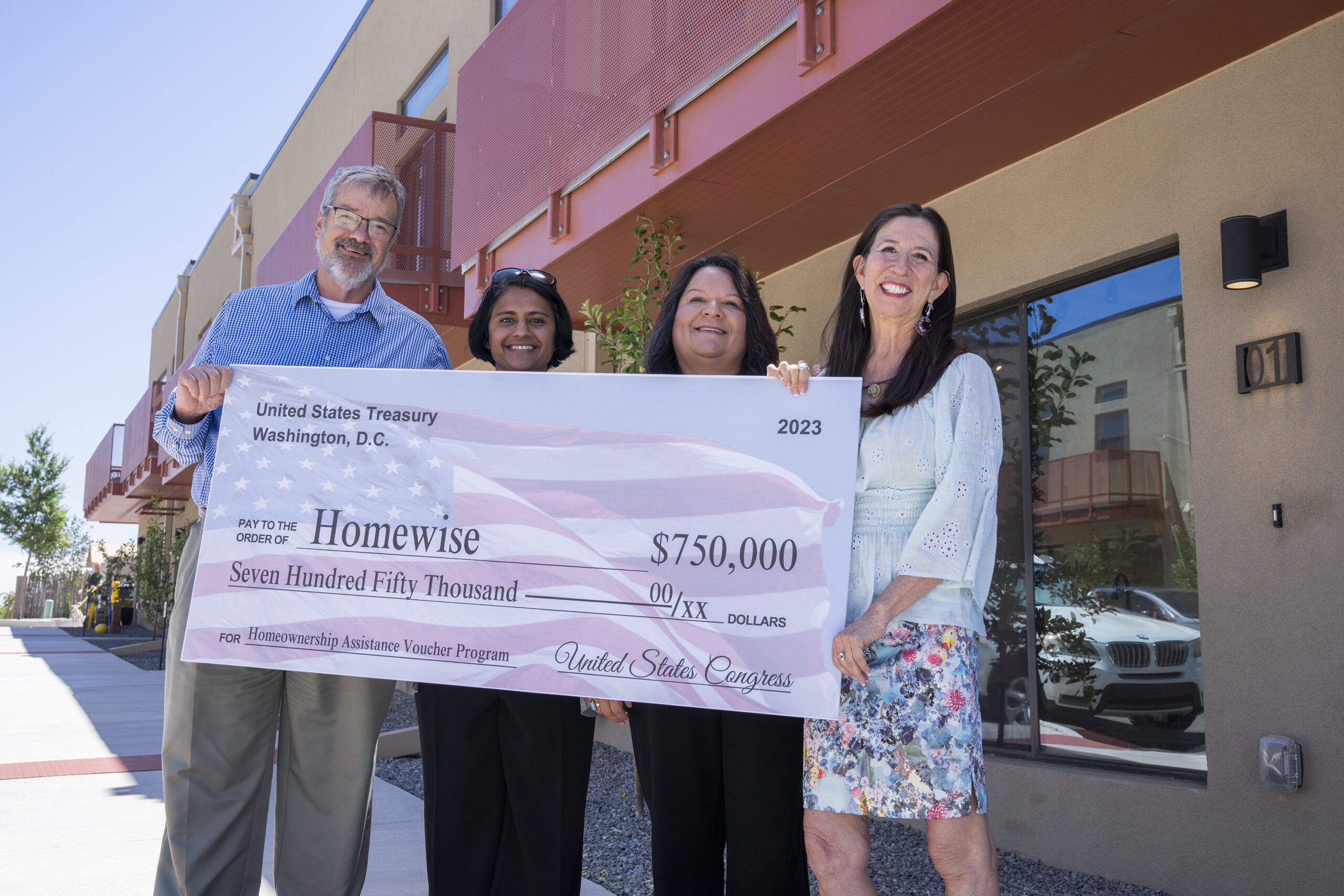 Above: Mike Loftin (CEO, Homewise), Rathi Casey (Chief Creative Officer, Homewise), Elena Gonzales (COO, Homewise), Representative Teresa Leger Fernández
(Santa Fe, NM) New Mexico Congresswoman Teresa Leger Fernández and Homewise CEO Mike Loftin recently announced that New Mexico's Homewise is the recipient of a $750,000 grant to provide down payment assistance to potential homeowners residing in New Mexico's 3rd Congressional District.
Through the Homeownership Assistance Voucher Program eligible residents can receive up to $30,000 in the form of a housing voucher that is designed to make their home purchase more affordable. The voucher is a form of down payment assistance (DPA), a powerful tool that helps fill the affordability gap between the home sales price and the approved loan amount for the borrower. Individuals and families earning 120% or less of the Area Median Income (AMI) can apply for this assistance. When you own your own home, your rent doesn't increase, you build wealth you can pass on to your kids, and you contribute to a more vibrant neighborhood and community," said Rep. Leger Fernández. "But one of the biggest hurdles for first time buyers is the down payment and money needed at closing, which is why the$750,000 for Homewise's Homeownership Voucher Program was one of my priorities. Projects like this are how we build our middle class; how our teachers, nurses and artists can afford to live and stay in their hometown. I hope to make homeownership vouchers a nationwide program."
The Vouchers will come in the form of DPA loans, which are no-interest, deferred-payment loans that are structured to make a home purchase more affordable for low- to moderate-income borrowers because they are typically due only upon sale of the property. Even a relatively small principal reduction deferred loan has a big effect on purchasing power by lowering the owner's monthly payment. When the payment is lower, the homebuyer can qualify for the mortgage with a lower income. "For people that have historically been excluded from the homebuying market, such as people of color and lower-income families, down payment assistance loans can mean the difference between buying a home or not," said Mike Loftin, CEO of Homewise. "Homeownership can support individual and family stability and reduce the racial wealth divide, and that's why this funding is so important. Thank you to Congresswoman Leger Fernández for her support of the future homebuyers of New Mexico."
The funding, in the form of an Economic Development Initiative (EDI), Community Project Funding (CPF) grant, is Congressionally Directed Spending administered by the U.S. Department of Housing and Urban Development (HUD).