Their Own Little Piece of New Mexico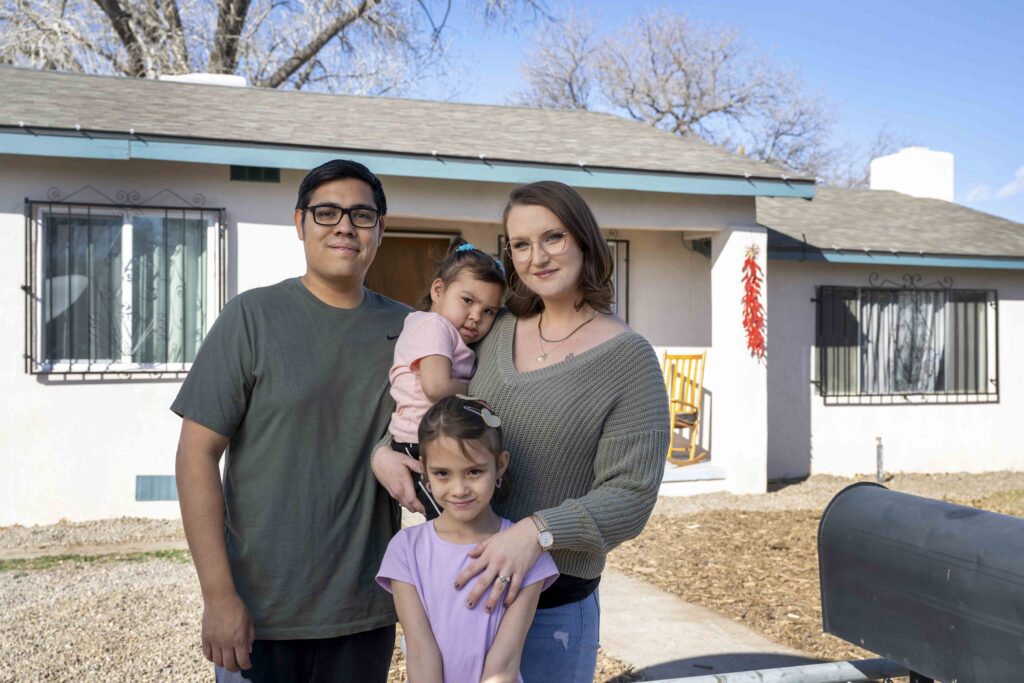 Andrew and Cate were raising their two young daughters, Lilly and Emma, in a small apartment, but longed to have a home of their own where they could realize their agricultural aspirations and have space for their kids to thrive. "We were living in the University area," Cate shared, "and felt that it wasn't a place where we felt safe with the kids playing outside. Plus it was a very small apartment, the cheapest we could find."
The cost of renting had become a real concern as well. While they had a good landlord and a manageable $800 per month rent payment, a neighbor in the same University area paid $2,000 per month for an apartment with broken windows. They wondered how long their luck would hold out. "It was stressful renting," notes Andrew, "all the renewals and possibilities of rent hikes [as well as] space issues. If you're going to be paying so much money for rent, you might as well do it on a mortgage."
Andrew, a Native American who was raised in the tradition and culture of both Jemez and Cochiti pueblos, grew up in a strong family that enjoyed the benefits of homeownership early in his life. His family has lived in New Mexico for 33 generations across a 60-mile radius. He feels fortunate, especially considering the historical trauma that native people have experienced here, including being forced away from their homelands and various reservations. His early years were spent engaging in ceremonial dances, spending summers in Cochiti pueblo, and living on the reservation during his 4th grade school year as his parents cared for his ill grandmother.
Cate is a native New Mexican, born and raised in Albuquerque. Her mom, a teacher, used a $4,000 summer salary as down payment on the family home in which Cate grew up. Both Cate and Andrew recognize the value of owning a home and were excited to start their home buying journey together.

Their path to homeownership, however, was challenging. Initially, Cate and Andrew worked with a different real estate agency, but were unhappy about the impersonal service and lack of transparency. When told that they were 'kind of approved', they felt confused and were uncertain if they qualified for a mortgage loan. They had also become overwhelmed with the home buying process. After a year and a half, they decided it was time for a new plan. They decided to give Homewise a try after seeing an ad promoting down payment assistance, and then receiving further encouragment from a family member who was familiar with the nonprofit.

They worked with Denisse, a Homewise homebuyer coach, who was "really, really, really awesome and helpful." By creating a personal action plan with hard and fast numbers, and engaging in frank talk about what credit improvements needed to be made and how much money needed to be saved, Andrew
and Cate moved closer to achieving their dream of homeownership. They were grateful for all the financial education and coaching that prepared them to become successful homeowners. "Looking back, I don't think [our loan] would have gone through with the initial lender," says Cate, who is relieved that they did not have to go through the experience of finally getting an offer accepted only to find out that their loan was denied.

When they were finally ready to start looking for a home, they worked with Rick, their Homewise Realtor, who helped them find a fixer-upper on a third of an acre—ample space for their children to play in a safe environment and to develop part of the land for agricultural purposes. He also helped them find inspectors, which took a huge weight off their shoulders. "He was great about keeping us on schedule and made us feel very comfortable in a daunting process." Rick explained the loan process to Cate and Andrew, helping them to anticipate and prepare for the next steps. Soon they were able to get everything in order to close on their home. The timing was great, too. "Funny enough," remarked Cate, "the day after we sent our landlord a 30-day notice because we were moving to our new home, we got a letter notifying us that he was raising our rent!"

Andrew and Cate were in a good financial position thanks in part to the lower rent they had been paying, and to the help they received from Homewise. They qualified for down payment assistance, which significantly increased their purchasing power, and their closing costs were lower than expected, too, allowing them to begin making improvements as soon as they closed on their new home.
Now that they are settling in, Cate loves how they are becoming part of a community and is thankful for all their "amazing neighbors." Andrew agrees, and adds that when he is away from home, he can't wait to be back. "Just to have a little piece of New Mexico is nice, it really feels nice!"